HEALING IS IN YOUR HANDS PODCAST
Empower yourself through holistic healing

We invite you to join us as we share our stories, laugh, educate, inspire, and provide you with tools and information so you can make informed wellness decisions in your life and put the healing power back in your hands. We offer information about various holistic therapies, meaning we consider the whole person -- body, mind, spirit, and emotions.
We have engaging segments like our meditative moment, distance healing and more. We would love your feedback on topics that interest you regarding wellness. We will be discussing everything from essential oils, sound healing, nutrition and food choices, living with an ostomy, Alopecia, traditional Chinese medicine, tinctures, foraging and everything in between. Let us know what interests you.
Our guests will share their expertise, stories, and insight into many aspects of holistic healing, and tools that worked for them. Tune in!
Healing is in Your Hands Podcast
Healing Is In Your Hands can be found on Facebook, Instagram , and Twitter
This podcast is available on: Anchor.FM/healing-is-in-your-hands hit subscribe and if you feel so inclined to support our podcast efforts there's a link on the page.
You can also find it on Apple Podcasts Breaker Castbox Google Podcasts Overcast Pocket Casts RadioPublic Spotify Stitcher
Our email is healingisinyourhands@gmail.com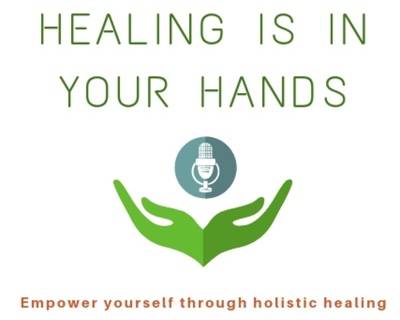 Please consider supporting our podcast with a small monthly donation to help sustain future episodes. We will continue to provide value, support, and encouragement as you take your healing into your hands.


Best, Kim & Erik
EPISODE 017 --- Be in Wellness Panel Discussion-how to use holistic healing for chronic pain conditions. --- May 15, 2019

EPISODE 016 --- Earth Day Everyday! Eco-initiatives With Cinder & Salt Where Style Meets Sustainability --- May 1, 2019

EPISODE 015 ---- Holistic seasonal allergy remedies and Spring detoxing tips --- Apr 17, 2019

EPISODE 014 --- Eat the Sunlight with Dr. Kevin Reese --- Apr 3, 2019

EPISODE 013 --- Soulshine Salt Cavern --- Mar 20, 2019

EPISODE 012 --- Hannah's Field - Conscious Music, Food and Conversation --- Mar 6, 2019

EPISODE 011 --- Winter Wellness-Self-care tips on how to boost the immune system to prevent colds and flu. --- Feb 20, 2019

EPISODE 010 --- Love From the Inside Out with Karen Geraghty --- Feb 6, 2019

EPISODE 009 --- Modern Spirituality with Kristina "Anandi" Luce --- Jan 23
EPISODE 008 --- Visualize Your Life with Angela Mendes --- Jan 2, 2019

EPISODE 007 --- Is This Soup for You? Bone Broth as Medicine --- Dec 19, 2018

EPISODE 006 --- A Meditative Moment to Hold You Over Wellness Peeps! --- Dec 12, 2018

EPISODE 005 --- Healing Rhythms with Craig NortonNov 28, 2018

EPISODE 004 --- Wisdom of the Earth - Medicinal Aromatherapy with John Odlum --- Nov 14, 2018

EPISODE 003 --- Fall Forage Walk: Edible and Medicinal Plant and Fungi --- Oct 31, 2018

EPISODE 002 --- "Who Am I?" The Life and Work of a Chinese Medicine Master --- Oct 17, 2018

EPISODE 001 --- Our Healing Journeys --- Oct 3, 2018
AUDIO DOWNLOAD

MEDITATIVE MOMENTS : SEASON ONE