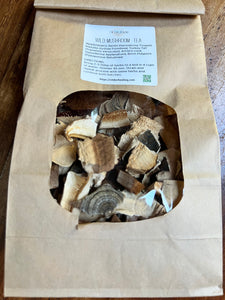 Chi for Healing
Wild Mushroom Tea
Regular price
$28.00
$0.00
Reishi-Ganorderma Tsugae, Artist's conk-ganoderma applanatum, turkey tails-trametes versicolor, Birch polypores-Pitptoporus betulinus, Maitake-Grifola Frondosa are all amazing tonics for the immune system.
These were wild harvested from 2021-22. The double extraction method is recommended. Place 2-4 tablespoons of mushrooms and add into 4-6 cups of water.  Then decoct (boil then simmer) in the water for 45 minutes. Strain and put aside first batch. Repeat the same process with the same batch of mushrooms and then combine both batches. There are some medicinal qualities that will come out from the glycerin called triterpines.  There are others that will only come out by being decocted in water called beta-glucans.
Drink 2 cups a day and make sure to warm the tea before drinking. Excess can be stored in the fridge to be kept fresh for a few days. 
Honey can be added for taste but the tea tastes pretty good on its own. 
You can also use the tea as a base for a broth as well.
---
More from this collection